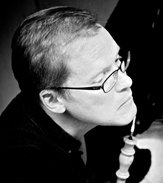 Ensemble Consonances: Gustav Friedrichson, hautbois - compositeur
Né à Riga (Lettonie) en 1976, Gustav Friedrichson pourrait être décrit comme une personne s'intéressant et s'exprimant principalement à travers l'art.

De 1996 à 2006, il étudie en Allemagne au sein de la Hochschule für Musik de Freiburg im Breisgau auprès de Heinz Holliger (hautbois), Cornelius Schwehr (composition) et Ottfried Büsing (théorie de la musique) .
De 2004 à 2007, il étudie le hautbois baroque au Conservatoire de Strasbourg auprès d'Ann-Kathrin Brüggemann.

En tant que hautboïste , il se produit régulièrement avec de nombreux ensembles de musique ancienne tels que: Le Freiburger Barockorchester, Vox Luminis, Concerto Stella Matutina, La Cetra,L' Ensemble Mattheus en Allemagne, Suisse, Autriche, Belgique, Hollande, France et Angleterre. Il joue régulièrement avec Les Passions de l'Ame.

Ses compositions ont été créées par Swiss Chamber Soloists, L'Ensemble Contrechamps, L'Ensemble Aisthesis, le Chœur de la Radio de Lettonie, Heinz Holliger, Christophe Desjardins, Geneviève Strosser, Thomas Zehetmair à Paris, Salzbourg, Riga, Genève, Bâle et lors des Festivals tels que Wittener Tage für Neue Musik et Salzburger Festspiele.

En 2008, il est récompensé par le Grand Prix de Musique de Lettonie.

_________________________________________________________________________

Gustav Friedrichson, Oboe - Composer
Born in 1976 in Riga (Lettonie), Gustav Friedrichson could perhaps be described as a person mainly interested in and expressing himself through art.

From 1996 to 2007 he completed his studies of oboe, baroque oboe, composition and music theory in Freiburg and Strasbourg, where his teachers were Cornelius Schwehr, Ann-Kathrin Brüggemann and a musician who surely is his strongest influence till now, Heinz Holliger.

As baroque oboe player he has performed with formations such as Freiburger Barockorchester, Vox Luminis, Concerto Stella Matutina, La Cetra, Ensemble Mattheus in Germany, Switzerland, Austria, Belgium, Netherlands, France, England. He regularly plays with Les Passions de l' Ame.

His pieces have been performed by Heinz Holliger, Christophe Desjardins, Genevieve Strosser, Swiss Chamber Soloists, Ensemble Contrechamps, Latvian Radio Choir in Germany, Switzerland, France, Latvia.

2008 he received Latvian Grand Music Award for orchestra piece "Chiaroscuro".
Copyright©2014-2020 Festiv'Baroqueries - Tous droits réservés