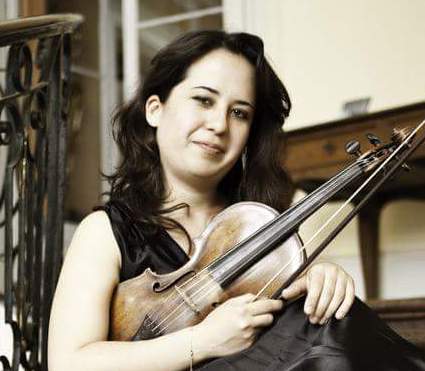 Ensemble Consonances: Alfia Bakieva, premier violon
Alfia Bakieva est née en 1986 à Novossibirsk, en Russie.
Elle a étudié le violon avec E. Baskina à l'Ecole de Musique Spécialisée de Novosibirsk, le violon baroque avec Enrico Onofri au Conservatoire Vincenzo Bellini de Palerme (Italie) et avec Hiro Kurosaki à l'Université Mozarteum de Salzbourg (Autriche). Elle a reçu de nombreuses bourses, lors du VIIe concours international de quatuors D. Shostakovich, notamment allouées par Roman Abramovich et la famille Shostakovich..
De 2004 à 2008, elle a été assistante du premier violon de l'orchestre "Musica Aeterna" de l'Académie de Novossibirsk Théâtre Académique d'Opéra et de Ballet de Novosibirsk avec Teodor Currentzis.
De 2008 à 2012 Elle a été l'un des premiers violons de "Il Complesso" avec Alan Curtis.

Elle est actuellement l'un des premiers violons de l'orchestre "Il Pomo d'Oro", premier violon solo de "Il Concerto Scirocco", premier violon invité de "Les Ambassador Orchestra", premier violon invité de l'orchestre Armonia Atenea d'Athènes, premier violon de "Hemiolia Ensemble", ainsi que membre de l'orchestre Balthasar-Neumann (Thomas Hengelbrock) et de l'orchestre Goettingen Haendel Festspiel.

En tant que premier violon de l'ensemble il Pomo d'Oro, elle a participé aux prix Echo Classics à l'Elbphilarmonie de Hambourg avec Joyce DiDonato et avec Jakub Józef Orliński en tant qu'invitée spéciale aux prix Victoire de la Musique.
En novembre 2020, elle a été invitée comme premier violon et conférencière au MUSIC CAMPUS Frankfurt RheinMain-period instruments-orchestra.

Alfia a participé à plusieurs enregistrements de CD. en tant que premier violon avec Il Pomo d'Oro, Jakub Józef Orliński et Maxim Emelyanychev. Sous la direction de Maxim Emelyanychev "Anima Sacra" et "Faccie d'Amore" ont reçu plusieurs nominations et prix internationaux, ainsi qu'un Double Diapason d'Or pour l'enregistrement du CD "Into nature" avec la participation d'Enrico Onofri. Enrico Onofri a participé en tant que premier violon et violon solo de l'ensemble "Imaginarium".

En 2014, elle a été décorée de la médaille du Président de la République d'Italie au XIX B. Albanese concours national des jeunes musiciens à Caccamo (Italie).
En 2017, elle est finaliste du prestigieux concours baroque "Ancient Music Competition Brugge" et en 2018, elle est lauréate du Concours Haendel Baroque à Goettingen (catégorie musique de chambre).

Elle est multi-instrumentiste, notamment dans la section folk-music, jouant du violon, du violon folk, kylkobiz, ghizzhak et autres instruments similaires. En outre, elle est membre fondateur de l'ensemble de musique folklorique l'ensemble de musique folklorique "Ekiyat", qui s'est concentré sur les traditions folkloriques tatares.
____________________________________________
Alfia Bakieva was born in 1986 in Novosibirsk, Russia.
She studied violin with E. Baskina at the Novosibirsk Specialized Music School , baroque violin with Enrico Onofri at the Vincenzo Bellini Conservatory in Palermo (Italy) and with Hiro Kurosaki at the Mozarteum University in Salzburg (Austria). She has received numerous scholarships, especially allocated by Roman Abramovich and family Shostakovich, received at the VII international competition of D. Shostakovich quartets.
From 2004 – 2008 she was assistant concertmaster of the "Musica Aeterna" orchestra of the Novosibirsk State Academic Opera and Ballet Theatre with Teodor Currentzis. From 2008 - 2012.

She was one of principal violins of Il Complesso Barocco with Alan Curtis. She is currently engaged as one of principal violins in "Il Pomo d'Oro" orchestra, principal solo violin in "Il Concerto Scirocco", guest concertmaster in "Les Ambassador Orchestra", guest concertmaster of Armonia Atenea Orchestra in Athens, principal violin in "Hemiolia Ensemble" as well she is a member of Balthasar-Neumann Orchestra (Thomas Hengelbrock) and in Goettingen Haendel Festspiel Orchestra.
As a concertmaster of il Pomo d'Oro ensemble she participated at Echo Classics awards in Elbphilarmonie in Hamburg with Joyce DiDonato and with Jakub Józef Orliński as special guests at Victoire de la Musique awards. In November 2020 she recieved an nvitation as concertmaster and lecturer at MUSIC CAMPUS Frankfurt RheinMain-period instruments-orchestra.

CD recordings with participation as concertmaster with Il Pomo d'Oro , Jakub Józef Orliński and Maxim Emelyanychev ("Anima Sacra" and "Faccie d'Amore") recieved various nominations and international prize winnigs , as well as Double Diapason d'Or for CD recording "Into nature" with Enrico Onofri participationg as concertmaster and solo violin of "Imaginarium Ensemble". In 2014 she was decorated with the medal from the President of Republic of Italy at the XIX B. Albanese national competition of young musicians in Caccamo (Italy). In 2017 she is a finalist of prestigious baroque competition "Ancient Music Competition Brugge". In 2018 she is a winner of Haendel Baroque Competition in Goettingen (chamber music category). She is a multi-instrumentalist, especially in the folk-music section, playing violin, folk violin, kylkobiz, ghizzhak and other similar instruments. Furthermore, she is a founding member of the folk music ensemble "Ekiyat", which has put its main focus on Tatar folk traditions.
Copyright©2014-2021 Festiv'Baroqueries - Tous droits réservés